Year 2023 of Operation Pirkanmaa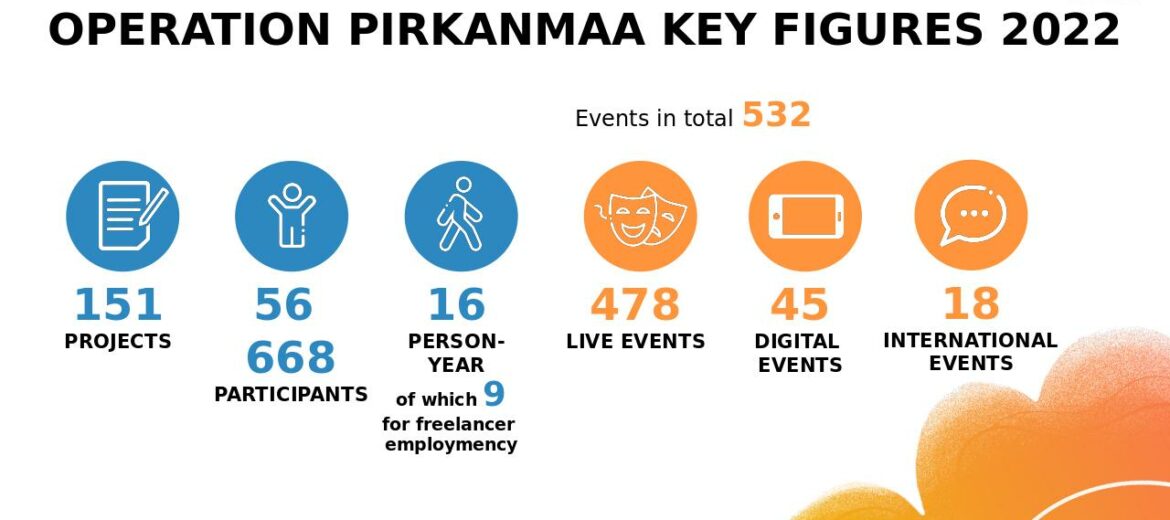 Operation Pirkanmaa 2022-2024, a regional project to develop the cultural sector, is now in full swing as the second year of activity is well underway. Although this development project is always looking towards the future, it is worth observing the results of its first year of operation.
In 2022, 532 events and occasions with a total of 56,668 attendees were organised altogether with Operation Pirkanmaa's support. It also collaborated with 151 different projects. The combined employment effect of these projects was sixteen man-years in the past year, of which nine man-years were the employment of persons in the freelance sector.
Project objectives and implementation
The goal of the joint project of twenty municipalities is to develop a cooperation network and new operating models for the region's cultural operators, and thus strengthen the creative ecosystem in the region.

In accordance with the value system inherited from Tampere26 ECoC bid, Operation Pirkanmaa works to make the operational environment more equitable, accessible, and sustainable.
The project's operation rests on four fundamental pillars: cultural programme, development of competence, municipal cooperation, and support for internationalisation.
Here we explore some highlights from the activity of Operation Pirkanmaa in these four areas.
Cultural programme
During the first year of operation, projects that participated in the European Capital of Culture bid were reviewed and 27 were chosen to be implemented during the project's operating period from 2022 to 2024. Some of the projects were already carried out in the first year of operation, and some will be implemented partly or fully in the years 2023 and 2024.

Altogether 213 low-threshold, accessible and free of charge Cultural Happenings were organised with funding from Operation Pirkanmaa all over the region of Pirkanmaa. These events attracted a combined audience of over 19,000 people.
The project also ran a pilot of various new operating models, such as the meanwhile use scheme, where vacant spaces owned by the City of Tampere were offered free of charge for use by operators in the cultural sector.
Development of competence
Operation Pirkanmaa also participates in the development of several regional projects. One of these is the City of Tampere's development programme for experience economy 2022-2025, where Operation Pirkanmaa functions as a cross-sectional and regional project.
Numerous other regional projects also have roots in the European Capital of Culture bid. These include the Project Flowing Culture and Art, and the Pirkanmaa Culture Bank service developed in conjunction with it, the Producer Bank by Tampere University of Applied Sciences, as well as KUPPI, a project offering service guidance in cultural welfare services in Pirkanmaa, among others. Operation Pirkanmaa acted as a partner in the development of the above projects.

It has also offered operators in the sector an opportunity to participate in different free training events, which in 2022 were based around developing business cooperation in the creative sector, or turning services provided by the creative sector into products, for instance. As a new initiative, the project hired a coordinator for sustainable development last autumn, who will train cultural operators in making sustainability plans during 2023.
Development of municipal cooperation
Operation Pirkanmaa continues to tend the legacy of Tampere26 by consolidating the network of twenty municipalities and their cooperation. One to three cultural officers were appointed in every participating municipality to take part in the activities. The network met eleven times in 2022.
The network shared the programme in the form of village tours: one or more touring projects were carried out in each partner municipality with financial support from Operation Pirkanmaa.
Together with the Producer Bank by Tampere University of Applied Sciences and the Flowing Culture and Art network, Operation Pirkanmaa also went to regional network meetings to meet cultural operators. Additionally, a survey was conducted to ask municipalities about their objectives and needs, and on its basis a topic-centred operating model was created for 2023. Six topics were selected for further work. The municipalities will choose which topics are the most important to them, and whom of their employees will participate in the goal-oriented work on those subjects.
The development topics are:
Strategic development of the cultural activities of municipalities
Developing cultural travel
Sustainable development
Competence in funding
Matters of premises for culture
Strengthening producer competence in municipalities
International and national cooperation
In 2022, the project promoted the internationalisation of operators by supporting travel abroad, networking with operators in other countries, as well as starting more tight-knit cooperation with European sister cities and the network of European Capitals of Culture.
International visits were made by operators such as Tampere Steampunk ry., who visited a Steampunk Festival during Kaunas – European Capital of Culture 2022, as well as Sirkusrakkauspumpum ry., who created a participatory street art project in Tampere's sister city Tarto, which will be the European Capital of Culture in 2024.
On a national level, the ECoC cooperation was continued with Oulu 2026 and the legacy project of The Saimaa Phenomenon around cultural topics, such as discussions around cultural policy and food.
Summary of year 2022
The work done during the ECoC bid and its legacy made for a broad and diverse body of work to scale down to a smaller legacy project. The project budget of the original Tampere26 bid was 52 million euros, and its operating span was seven years.
In comparison, Operation Pirkanmaa was scaled to operate for three years and its budget was around five percent of Tampere26, making the annual budget of the project approximately 850,000 euros per year.

Because of this, it has been important to reconfigure the project into a development project, where the starting point is not big-budget mass events, but broader packages with a development angle.

Operation Pirkanmaa is a project that invites participation, considers the needs of special groups, creates discussions, tests things out and seeks to be inventive, resourceful and nimble.
The next two years of Operation Pirkanmaa
Several projects funded by Operation Pirkanmaa have an inherent intention to focus their implementation on a relatively small number of people, but they bring forth those people's thoughts and creations – making participation meaningful for those involved.

The project supports and trains cultural professionals in many ways, and takes events to places where they are not usually seen. In 2022 and in the future, the project will run different kinds of experimental pilots and seek to thus create new, perhaps copiable, operating models.
Another objective of Operation Pirkanmaa is to reshape thinking and broaden perspectives towards new possibilities. We are already seeing some results, such as operators more actively seeking outside funding or international partners from different networks.

Operation Pirkanmaa tries to improve the operational preconditions in the cultural sector on a wider front. In a cultural development project, it is vital to build communal modes of operation that support dialogue, to promote equality and to support new kinds of operating models.

With this in mind, Operation Pirkanmaa looks forward to the years 2023 and 2024.


Further information:

Project Manager Ilona Kyykoski
ilona.kyykoski@tampere.fi
Tel. +358 40 706 5431
P.S. If you happen to have any development-oriented ideas up your sleeve, we are always open to ideas for new operating models!